We are deeply committed to respecting and celebrating the diversity of the Jewish people and to reflect that richness in our programs. The JCC MetroWest welcomes, inspires & empowers individuals and families to engage, learn & grow in a warm and caring community. Our mission is to offer many pathways and opportunities for our members to connect to Jewish knowledge, tradition, and values in a personally meaningful way.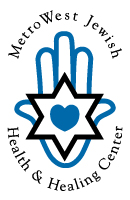 The Health & Healing Center works in partnership with Jewish Family Service of MetroWest. Please visit us online at www.jfsmetrowest.org. Support groups for bereavement, divorce, and chronic illness are formed on an ongoing basis together with Jewish Family Service of MetroWest.
Bereavement Hotline
Grieving over the loss of a loved one? Local support groups can help you gain insight through shared experiences with others and cope better with loss and loneliness. To learn about groups serving people of all ages, please contact the Bereavement Hotline at 973-765-9050 ext. 346.
Sponsored by Leonard Berkeley & Jason Berkeley in memory of Teri D. Berkeley, and cosponsored by the Jewish National Fund, Jewish Family Service of MetroWest, and JCC MetroWest Jewish Health and Healing Center.
Loss of Spouse Groups
For more information, contact Anne Mollen at 973-765-9050, ext. 1721 or [email protected].
Children's Support Groups
Support groups are forming to help children who are dealing with issues such as special needs, chronic illness, domestic violence, divorce, and social skills challenges. To refer a child or to start a group at your school or center, please call Sarah Mendez at 973-765-9050, ext. 1752.
Women's Support
Lindy & Rudy Slucker NCJW/Essex Center for Women Career Services • Support Groups • Women's Workshops Computer Classes • Legal & Financial Guidance
Call 973-994-4994 or visit www.centerforwomennj.org for more information.
1 results
Sushi Sake & Song in the Sukkah
(Wednesday, 7:30 PM - 9:30 PM)
Sushi Sake & Song in the Sukkah
Registration Start Date Monday, August 7, 2023
Registration End Date Friday, May 31, 2024
# of meetings0
Program Start Date Wednesday, October 4, 2023
Program End Date Wednesday, October 4, 2023
Member Fees $25
Non-Member Fees $25